Digital centerpiece in trials
The high performance technology platform for multi-channel data sourcing in medical science.
Launch your Platform
Your central access to clinical data
Clinical research undergoes rapid changes, driven by digitalization, big data analytics and machine learning. Yet we stay focused on the baseline: valid data - in digital formats. Created in extensive scopes and bandwidths, in many formats, collected from a huge variety of sources.

eCRF
Dynamic data capture in a highly customized and user-friendly environment

Tech-Ons
Several ready-for-action functionalities developed by best practice

Mobile
Consistent data capture and processing via mobile devices at the point of experience

Integrations
Simple integration of additional data sources and third-party technologies via established interfaces
One Platform for your Study
Integrating multiple data sources and functionalities into clinical studies is the purpose of Alcedis Platforms™. What can be imagined is build into one piece. The REST-API interface of Alcedis Platforms™ is the key to integrate and align our own and third-party solutions into the Alcedis ecosystem.
Get integrated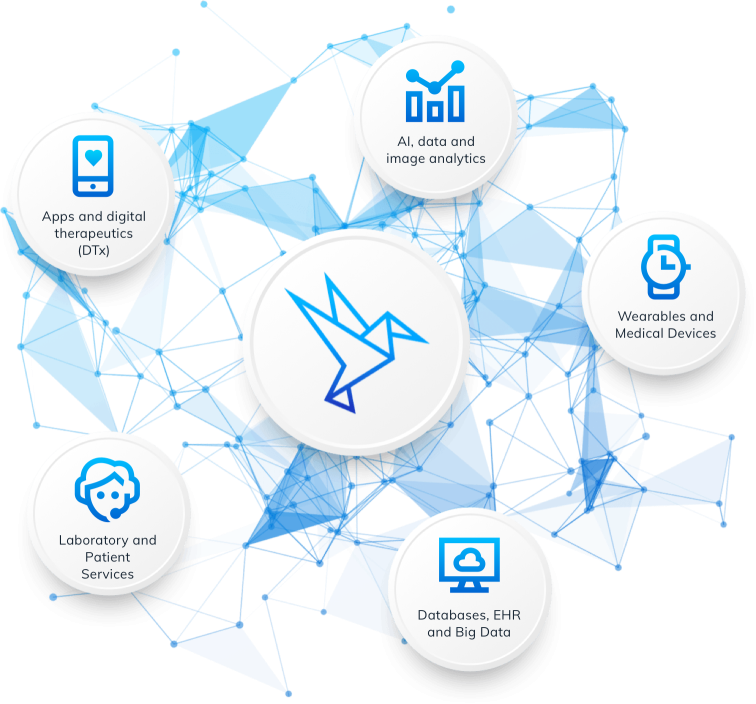 Flexible, intuitive and secure
Starting with a complex protocol or a plain vision, we are the experts to deliver a custom-built eCRF within short set-up times
Creating powerful and disruptive research environments since we launched Germany's first eCRF in 1998
Innovative user interfaces and databases safely hosted via our in-house cloud computing center in Germany
Explore eCRF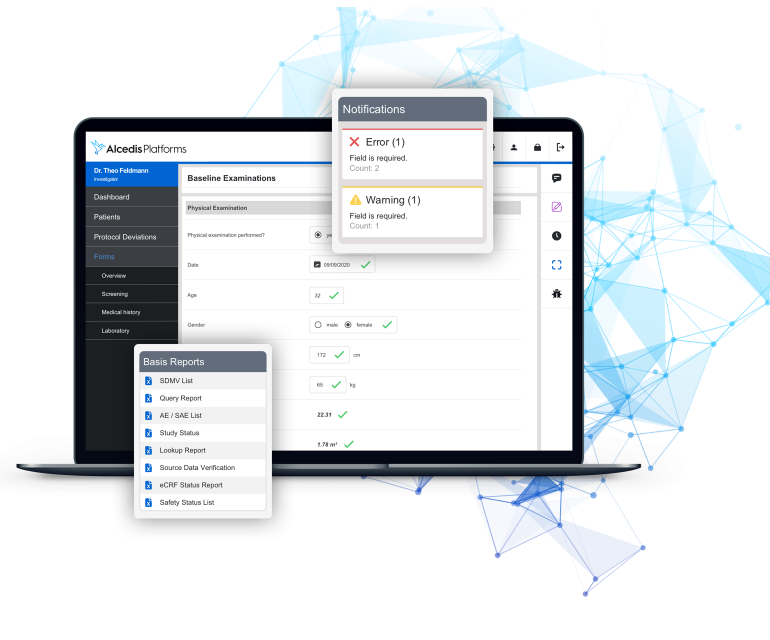 Best of Class for Maximum Synergy
Robust off-the-shelf extensions for the most common and important processes
Reduced set-up timelines and maximum cost efficiency
Benefit from our experience in digitalizing workflows
Explore Tech-Ons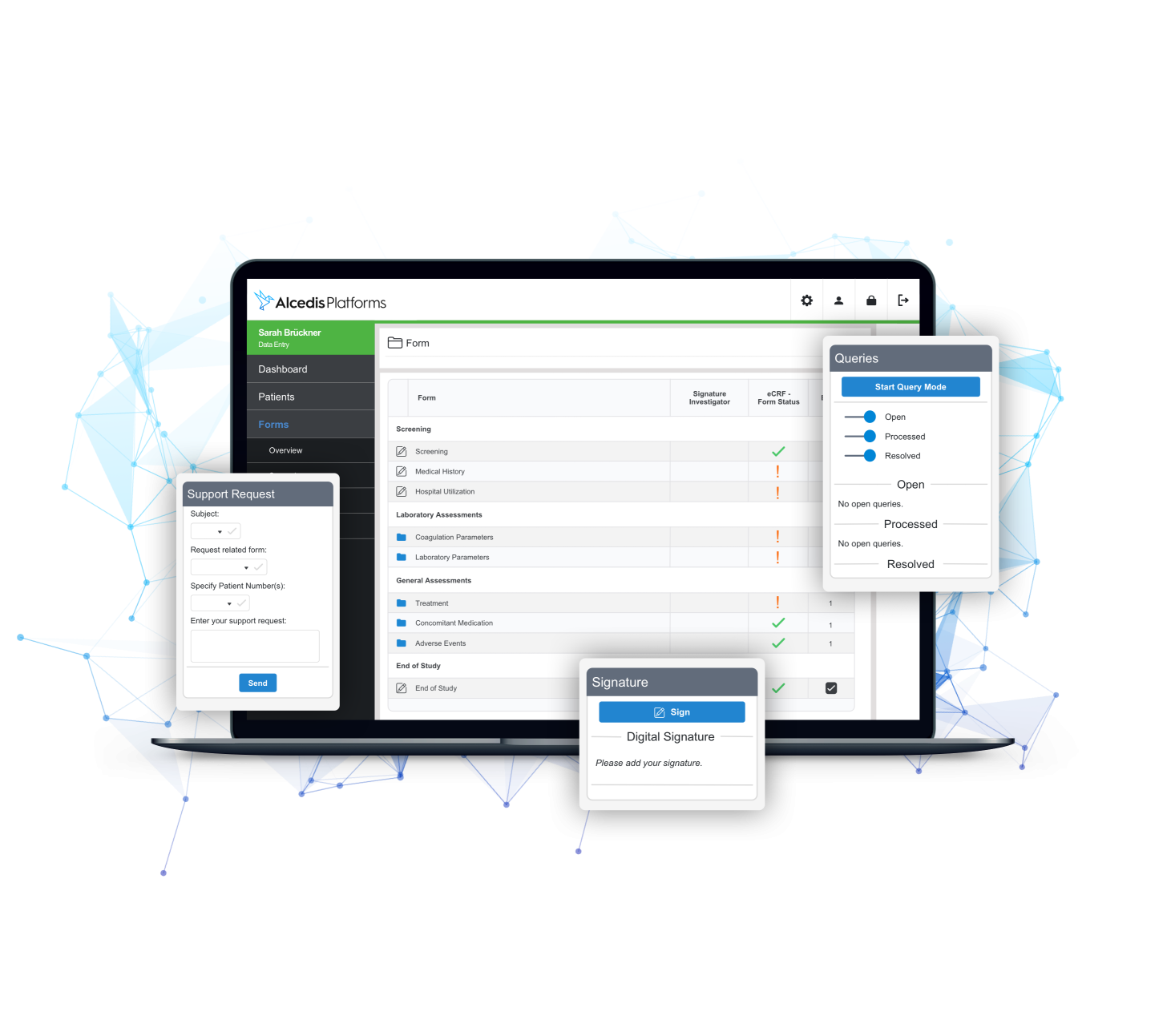 Extend your Platform to any Mobile Device
Simple recording of study data for participants in clinical studies (e.g. Quality of Life Data)
Completion of important tasks such as editing forms or calling up reports on mobile devices
Current information on relevant performance indicators and study progress for project managers
Go Mobile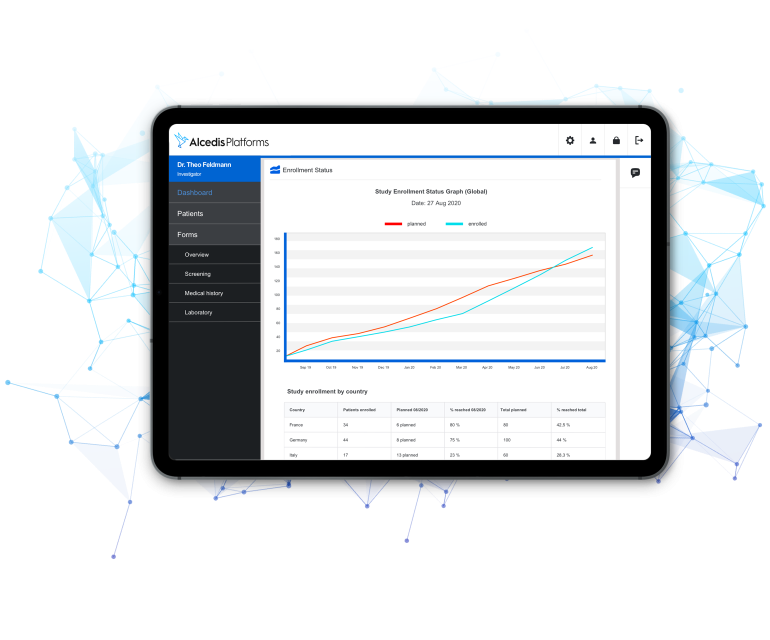 "Alcedis has done and developed a lot recently and the EDC system has improved greatly. I highly recommend Alcedis and their EDC System for future studies."
Christian de Vries
Bayer, Principal Data Manager Medical Affairs
"We are collaborating with Alcedis for many years in several indications and as such in some local oncology studies. I believe one of the success factors for Alcedis is their high commitment and the hard work they bring into assigned projects. Besides great expertise in clinical research, another sweet spot is definitely their IT solutions for innovative data capture in clinical studies."
Dr. Lars Mühlenhoff
AstraZeneca, Director Medical Affairs Oncology
"We are collaborating with Alcedis for many years now on local and global observational studies. We particularly appreciate their flexibility to adapt their CRO services and processes to our requirements to deliver highly customized, innovative and user-friendly EDC solutions. Work atmosphere is always very professional and collaborative."
Dr. Sabine Friedl
Bayer, Head of TA Oncology; Hematology, Global NIS
"In our collaboration, I experience Alcedis as a very cooperative and flexible partner. The internal organization is very good, which one can see for example in the harmonious and efficient communication between the departments involved. Tasks were always done punctually and in good quality. The project-team was always very open during the creation-process and supported us with good advice, based on the past experience. I am very happy to be working with such an experienced and well-tuned CRO-team. The cooperation is really fun and I would definitively recommend Alcedis!"
Dr. Susanne Oesch
Bayer, Medical Advisor
"We are very enthusiastic about our collaboration with Alcedis. Alcedis was able to implement every request we had, some of them complex and complicated issues, in a quick and efficient manner. After implementation, their support and problem-solving skills were impeccable at all times."
Petra Kollien
medac, Med.-wiss. Produktmanagement, Onkologie
"The cooperation between the service-provider Alcedis and our pharmaceutical company AstraZeneca was focused on very diverse and complex tasks as part of clinical trials as well as care research projects from the very beginning on. Employees from both companies collaborate without complication, self-reliantly and result-oriented on a very high, professional level."
Dr. Jörg Wollert
AstraZeneca, Director Value Demonstration
"I have made very good experiences with Alcedis in several global projects over the last years. I recommend their professionalism and hands-on mentality as a full service CRO with excellent eCRF solutions. Working with such a dedicated team was joyful on top and I can fully acknowledge Alcedis as a trusted partner!"
Alexey Medvedchikov
Boehringer Ingelheim, Regional Medical Affairs Operations
"My journey with Alcedis was accompanied with good people with experiences that made the job much enjoyable. Many thanks to all Alcedis team for the hard work and effort to make it happen. You went above and beyond!"
JinKyung Lee
Bayer, Global Project Manager NIS
"We are the market leader of homeopathic products in Germany and thereby dedicate ourselves to collect scientific data on our products. In this context, we are collaborating with Alcedis GmbH on an international clinical trial. From the beginning of our cooperation, we were pleasantly surprised by the high commitment of the Alcedis team. They immediately took ownership of our trial, bringing in valuable know-how to turn our ideas into reality. Thanks to their expertise, it was possible to tackle technical challenges. Finally, a continuously open ear to our special requests illustrates the flexibility of the Alcedis team. It is a pleasure to work with them!"
Dr. Sabine De Jaegere
DHU-Arzneimittel GmbH & Co. KG, Scientific Advisor Clinical Research
"The collaboration with Alcedis works splendidly and we are still very happy to have a competent partner at our side as support for our local studies! And this for many years now already!"
Elke Kreitmair
MSD, Director Medical Operations, Medical Affairs/MRL
"The Alcedis GmbH flexibly adjusts to our needs and thinks very customer-oriented - the feedback of our clinical partners is positive all the way."
Prof. Dr. Ralf Wagner
lophius biosciences, CEO & Chairman of the Board
Launch your Alcedis Platform™!
Let us create a high-performance environment for science that matters. Together!
Contact us